Mayfam Entertainment is in phase one to develop a 60 thousand to 100 thousand square foot studio, a 200 room (with 12  of them being suites) family oriented hotel casino, with around 750 slot machines, 10 live gaming tables, a 10 acre indoor wave pool with water rides and land rides including a indoor pitch black roller coaster, and a theme park outside that will be based after all Mayfam Productions films and television shows that they create and produce. The outside theme park will sit on 35 acres with both water and land rides for when the inside park is full or it's just to nice to be inside. These projects will take place in the Burlington Vermont & Las Vegas Nevada areas.


Mayfam Studio will consist of 6 studios, 3, for sitcoms that will have seats for live television audience, one studio will for a cooking show or talk show. These 4 studios will be held together by one command center visible to all the studios and can run simultaneously at the same time. A bigger studio for the one hour drama series and of course or film studio will make up number 6. All studios will be complete with state of the art cameras, lighten and sound. State of the art editing rooms for both film and television, honey wagons, campers, and trucks to make on location productions a walk in the park. They are hoping for a Construction start date in the end of 2015 or sooner.

The Hotel Project is being designed by the top Casino Designer Barry Thalden of Thalden and Boydd who has designed the Venetian in Las Vegas Nevada and Trump Casino to many others around the world.

The Theme Park is being designed by top theme park designer Bob Minick of Minick and Associates who has developed the top theme parks around the world as well.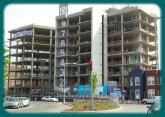 Mayfam Hotel & Casino, Theme Park with Film School.

These are not actual photos hoping for construction in 2015